YOUR WARRANTY DEPENDS ON YOUR ADHERENCE TO THESE GUIDELINES
IMPORTANT
If the transmission is being installed in a '01-'03 Toyota RAV4 the ECM part number must be checked to verify an updated ECM has been installed. Refer to Toyota bulletin number 0156-10 Rev. 1 for specific information. Failure to verify a properly functioning ECM is installed in the vehicle will cause immediate transmission damage and will void your warranty.
If the transmissions is being installed in a '04-Present Toyota RAV4 4x4 with a 2.4L engine, the transmission cooler is not flushable and must be replaced. Failure to do so may result in transmission failure and/or void your warranty.
CHECKLIST
On AWD applications, install the new transfer case lube passage seal that has been supplied.
Compare replacement transmission and torque convertor to original before installation.
Scan original vehicle computer, record any codes for later review and resolve all codes. Please note that some engine codes will inhibit the shift to 4th gear in this application.
Transmission cooler and lines must be hot flushed or replaced.
Inspect flex plate closely and completely for cracks or any damage.
Be sure both dowel pins are clean, installed properly, and are in good condition.
Seat the torque converter completely in the transmission prior to installing the transmission in the vehicle.
Air tools should NOT be used to force the transmission against the engine block; this may damage or break the transmission case.
Inspect all engine, transmission, and cradle mounts for wear and damage.
Inspect drive axle splines, retaining clips, and CV joints for wear and damage.
Test all sensors and switches that have been transferred from the original transmission for correct operation.
Fill the transmission with purchased synthetic or T-IV transmission fluid.
Confirm that the transmission has a good ground connection; reattach all ground straps to the correct location free of paint, grease, oil and corrosion.
Verify that the engine block and bell housing surfaces are clean and free of paint, grease, oil and corrosion.
Do not use power tools to tighten the manual lever retaining nut. The use of power tools can damage the internal linkage.
Reset the adaptive memory in the ECM with a capable scan tool. Disconnecting the battery is not sufficient to clear the adaptive memory. See next page for adaptive memory reset screenshots from a Toyota factory scan tool.
ADAPTIVE MEMORY RESET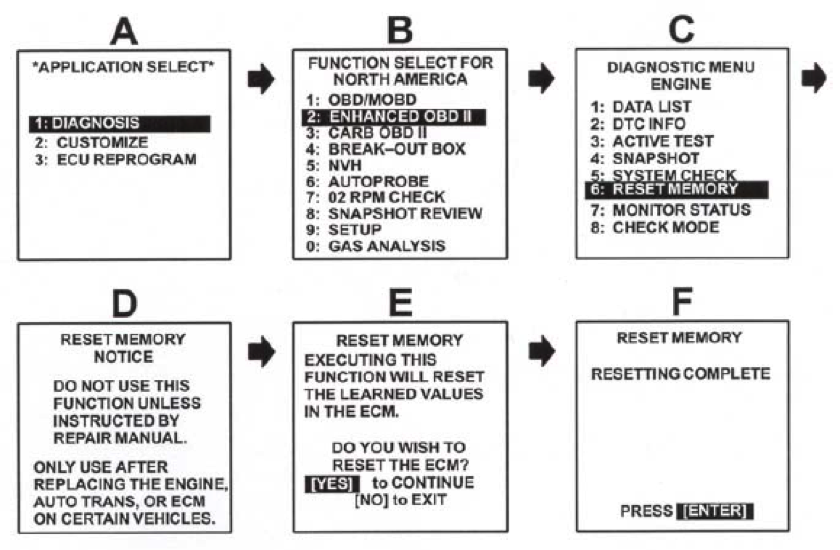 Applicable Models:
2002–2004 Camry (V6)
2001–2003 Highlander (V6)
1999-2003 Lexus ES 300
2001–2003 Highlander (4x4)
2001–2010 RAV4 (4x4)
1999–2003 Lexus RX 300 (AWD)
2009– Matrix (2.4 L) (AWD)
2001–2007 Highlander (2.4 2WD)
2001–2009 Ipsum (2.4 2WD Final 2.923)
2002–2012 RAV4 (2.0 2WD) (2.4 2WD)(2.5 2WD)
2002–2004 Camry (u4 cyl.)
2002–2005 Solara (4 cyl.)
2002–2007 Alphard (4 cyl.)
2005–2010 SCION tC
2008-Current SCION XB
2006–2009 Camry* (4 cyl.)